NBA players participate in pro-am leagues across the nation during the offseason. These leagues provide fans the chance to get up close and personal with some of their favorite NBA players even though they may not be able to buy tickets to an NBA game. Jamal Crawford, a former NBA player, oversees one of those leagues in the Seattle venue known as The Crawsover. Numerous NBA stars have participated in the league, and even after retiring, Crawford still wowed the crowd. Jonathan Kuminga, a forward with the Golden State Warriors, donned his uniform this past weekend and put on a spectacular performance.
Warriors supporters who saw the game at The Crawsover may have had ideas of what this upcoming season could be like after Jonathan Kuminga scored 60 points there. Kuminga was one of the young Warriors who didn't have a steady role last season, and his playing time fluctuated. Kuminga, a previous lottery pick, has a lot of unrealized promise.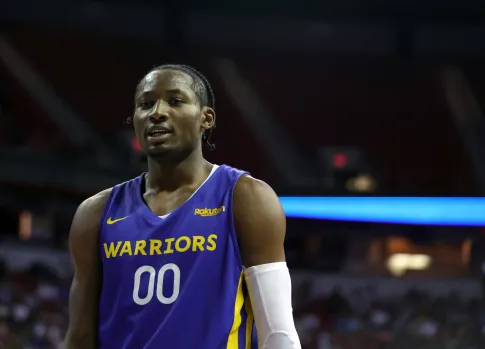 Kuminga played for the Warriors in 67 games last season, making 16 starts, and averaging just over 20 minutes per game. He shot 52.5 percent from the field, 37 percent from three-point range, and 65.2 percent from the free-throw line for an average of 9.9 points and 3.4 rebounds per game.
ALSO: Massive Pascal Siakam to Warriors trade plot revealed
But throughout the postseason, Kuminga's role and playing time decreased. His playing time decreased to 6.1 per game, despite the fact that he shot well (54.2 percent from the field and 42.9 percent from beyond the arc). If he has a clear role for the squad this coming season, only time will tell.