Madden 24 servers are currently down, not loading, or not functioning, which is irritating for gamers and Madden NFL fans worldwide.
Players are no longer able to connect, load, or play the eagerly awaited game as a result. If you've been struggling with this issue, know that you're not the only one.
Madden 24 servers down, not loading or working
The volume of complaints clogging up social media sites like Twitter suggests that many gamers are having the same issue.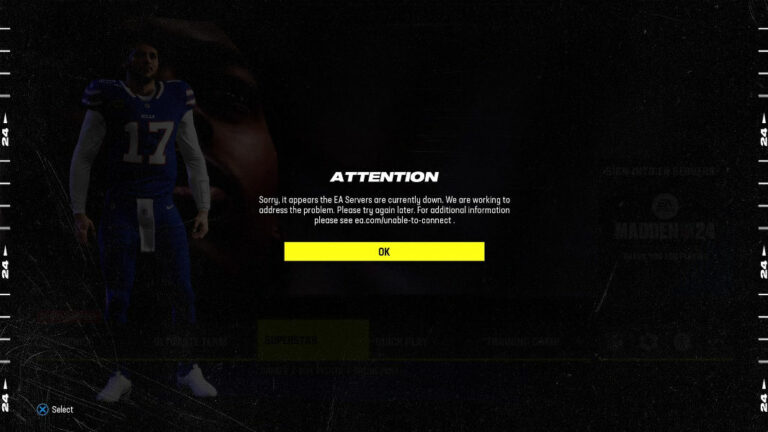 Online connectivity is essential to the gaming experience in the modern era. Consequently, the Madden 24 server issue has caused a number of players to feel disconnected and annoyed.
Players are reporting that they are receiving error messages that say, "Sorry, it appears EA servers are currently down," in a deluge of reports.
Players have been unable to play multiplayer games, take part in events, or even obtain crucial game data because they cannot access the internet elements of the game.
"Folk paid $100 to get Madden early only for EA to take the servers down for 7 hours.That's Scammy Davis Jr.
So tired of EA having the rights to Madden preorder so I can play early and it's down for the next 7hrs !! You had a year to improve on a game you've been making for years and can't even get a working game on time."
It appears that this ongoing maintenance is the cause of the outage you are currently experiencing. From 1:00 AM to 6:00 AM ET, it is planned to happen: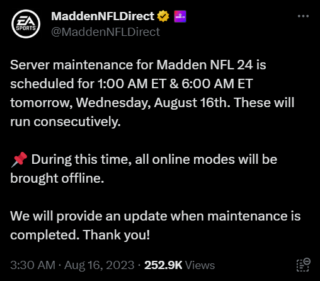 The game will be operational once the maintenance is finished. The Superstar mode and presale points problems are expected to be resolved by the maintenance, according to players.
Players can follow PiunikaWeb for the most recent information on the situation in the meantime.
Update 1 (August 17, 2023)
09:30 am (IST): The server maintenance has finally ended, so Madden 24 is now available again.