During a trip to Japan in the middle of July, YouTube star IShowSpeed was sent to the hospital after developing a serious sinus infection that had totally swollen shut his right eye.
Cluster headaches, according to Speed, were so excruciatingly painful that he was afraid for his life.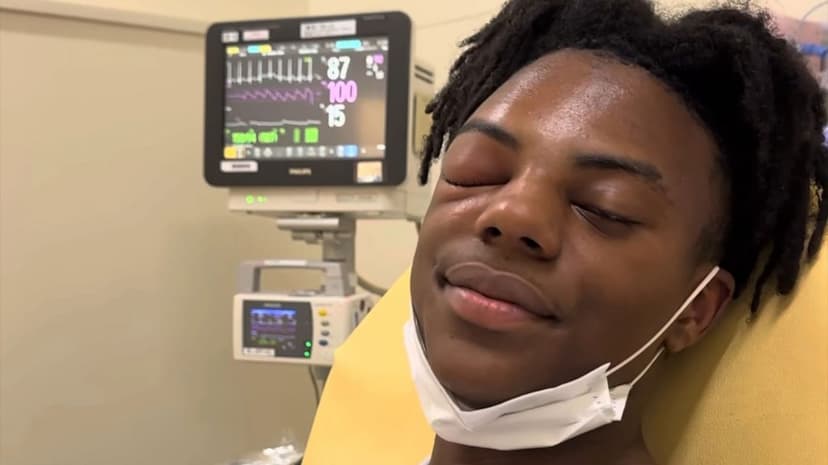 Fortunately, the streamer was able to make a gradual but steady recovery in the hospital, which was made possible by the support of his admirers, who gathered in front of the hospital to encourage him.
Injuries from a serious sinus infection caused IShowSpeed to be taken to the hospital in July.
He acquired 19 million subscribers during his visit and is now back home. His return to streaming was anticipated by fans, and they didn't have to wait long.
IShowSpeed returns to YouTube with first stream since leaving hospital
Speed returned to YouTube on August 15 with his first stream after leaving the hospital, during which he opened up about the terrifying experience he had to go through because of his health.
"I am f*ckin' back, bro," he said. "Y'all don't even know the pain I went through, bro. Y'all don't know what the hell I went through, bro."
"Bro, I almost f*cking died. I almost jumped off of a f*cking building, chat. I was this close to jumping off of a Japanese building. And I'm not trolling, bro. I'm being deadass. I swear on my life, bro. It was that freaking bad, bro."
Speed even insisted that a spinal tap was required as part of his treatment and said the pain in his head felt like a knife had "stabbed" him behind his eye.
"I literally had the worst-ever sinus infection," he continued. "It got super, super bad. And the sinus infection was causing cluster headaches. …I pray none of y'all in the chat experience a cluster headache. It feels like somebody has a knife with your eye and are stabbing it from the back of your eye."
"That's the one that almost killed me. That's the one that almost got me. …I went through so much. I'm still healing."
As Speed recovers from the sickness, fans have been quick to give their well wishes. The broadcaster was "impatient" with not streaming, according to the editor of Speed the day before, but wanted to make a complete recovery before returning to full-time content.
After this terrible event, it's obvious that Speed's fans are pleased with his recovery and are still cheering for the streamer.
IShowSpeed risks YouTube ban just a day after returning to streaming
On August 16, while performing a playthrough of Five Nights at Freddy's, IShowSpeed started to pop off and unintentionally exposed himself on camera.
When Speed realized what had happened, he sat down right away, appearing surprised that he had unintentionally displayed his privates to a crowd of 24,000 people.
"Oh my god," he said, and seemingly ended the stream straight afterwards.
Fans expressed their astonishment and surprise at the situation immediately on Twitter, with many speculating that he would be suspended from streaming just a day after making his significant comeback.
It is accurate to say that YouTube's policies forbid material that "depicts genitalia, breasts, or buttocks, whether clothed or not, that are meant for sexual gratification," as well as "the depiction of sexual acts, or fetishes, that are meant for sexual gratification."
Although Speed's account hasn't yet been banned, followers are almost positive that it won't take long.