If it wasn't already crystal clear, Thursday's shocking deal of Jordan Poole for Chris Paul firmly confirms what both parties have been emphasizing ever since the Golden State Warriors' title defense came crashing down with a loss in the second round.
Draymond Green must re-sign with the Warriors after choosing to break his contract earlier this week and become an unrestricted free agent. The only remaining issue is how much it will cost to sign what is likely to be his Hall of Fame career's final long-term contract. It comes as no surprise that Green doesn't seem particularly eager to give the Warriors a home-town discount.
Insisting that he's "easily worth another $100 million" in free agency, Green reposted a comment from ESPN's Stephen A. Smith on his Instagram account on Friday morning.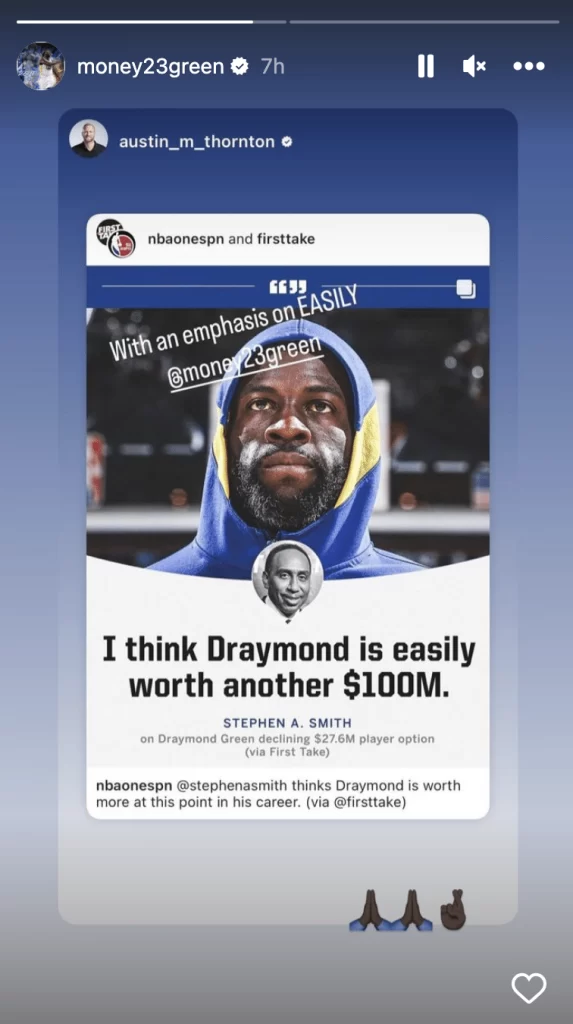 Breathe in, Dub Nation. The nine-figure asking price for Green as a free agent isn't as absurd as it first appears.
Next season, Green was expected to receive $27.6 million under the contract he chose to leave. Would he agree to a $100 million, four-year agreement with a team option at the end? If not, increasing that yearly salary by a few million dollars might persuade Green to grant Golden State power over the last year of his subsequent deal. Perhaps a partial guarantee on the fourth year would pique his interest more, providing the Warriors freedom and Green some financial security even if they decide to part ways with him in his late 30s.
Keep in mind that after trading Poole for Paul in 2023–24, the Dubs won't be quite as short for cash. After next season, when the front office will finally have more spending options to fill out the roster around Green, Stephen Curry, and possibly a re-signed Klay Thompson as they age out of their extended primes, Green returning on a long-term contract with yearly payouts in line with his last deal wouldn't get Golden State the immediate luxury-tax savings Joe Lacob surely wants.
The only thing standing in the way of a deal between Green and the Dubs that seems inevitable shouldn't be money. They're obviously all-in on winning another championship the next year, but those dreams may abruptly disappear if the Warriors refuse to give Green what he's worth—or perhaps just a little bit more.