Although the Golden State Warriors are far from in disarray, even Steve Kerr acknowledged after the Los Angeles Lakers' season ended on Friday night that this isn't a championship squad.
If the Dubs want to continue to be a legitimate title contender in the Western Conference going ahead, they will need to seriously reevaluate their roster. This will require combining at least one new player with the seasoned combination of Steph Curry, Klay Thompson, and Draymond Green.
DeAndre Ayton, a center and former first-round pick, may be that name this offseason as the Phoenix Suns want to assemble a championship squad around Devin Booker and Kevin Durant. Jordan Poole, whose $128 million contract extension begins next season, will probably be the focal point of any deal the Warriors make to get Ayton.
One day after the Suns were eliminated from the playoffs on Friday, May 12, Sports Illustrated's Ben Stinar suggested a Poole-for-Ayton trade.
According to Stinar, the Suns ought to try to swap Ayton for Poole with the Golden State Warriors. The Suns need guard depth since 38-year-old Chris Paul has a long history of injuries. The Warriors, meanwhile, are in desperate need of size. They traded 2020 second-overall pick James Wiseman to the Detroit Pistons during the season, and nobody on the roster is taller than 6'9″.
Warriors Are About to Feel the Burden of Jordan Poole's Salary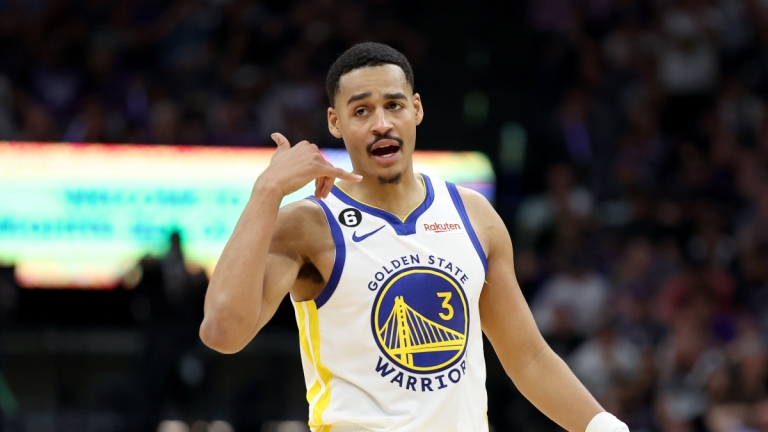 Any such trade would be complicated by Golden State's financial condition, as the team faces a salary cap figure well over $400 million for the upcoming season after adding in luxury tax penalties.
However, on May 12, Anthony Slater and Shams Charania of The Athletic claimed that Joe Lacob is still one of the NBA owners most likely to make significant purchases and maintain his team's championship window open. They noted that Poole stands to be the most potential trade chip out of all the players on the squad.
If cost-cutting is required, he profiles as the likeliest candidate. Poole had a turbulent fourth season, beginning when he took the infamous preseason punch from Green during a training camp practice. Poole kept it professional in the aftermath and tensions cooled enough for the two to work together. But the relationship was never fully repaired and Poole's struggles didn't help the mood, culminating in a challenging playoffs that saw his efficiency plummet and minutes get reduced
Also: Stephen Curry shared unforgivable Message for Lakers player
To move him is still met with hesitation. Poole has a tremendous scoring skill that is lacking on the team below Curry and will be required as the primary players continue to get older. He averaged 20.4 points per game this season. When his value is at its lowest in the past 12 months, is it prudent to leave that? Will the financial crisis require it?
DeAndre Ayton Offers Youth, Size to Warriors' Roster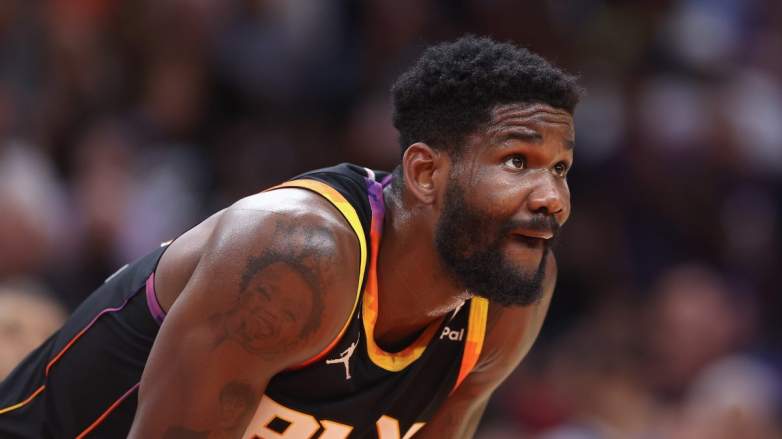 The Warriors' financial issues cannot be resolved by trading Poole for Ayton, but they also cannot be resolved by dealing Poole for any other player.
NBA regulations stipulate that the total wages of the players included in a transaction must roughly match on both sides. Ayton's contract pays him $133 million over four seasons as opposed to Poole's $128 million, meaning he is actually expected to earn more money than Poole over the following few years.
The main distinction between the two contracts is that Poole has the full four years remaining on his contract while Ayton just has three years left on his. By dealing Poole for Ayton's services and cutting ties with Green either this offseason or the following, the Warriors might get creative and place a significant wager on the player.
If Green exercises his player option, he will be paid $27.6 million the following season. Green's ambition for a new contract, though, may not align with Golden State's long-term goals for the future. The Dubs may take significant luxury tax penalties off the books in 2023–24 by being tough with Green and letting him leave.
Although it isn't a perfect strategy for the Warriors, it does enable them to simultaneously become younger, bigger, and less expensive. Golden State must change something if the team wants to compete for another NBA Finals spot the following season, and Poole's departure is the most likely first step in that direction.