The Competition Is Astounded By Elon Musk's Cheapest Tesla Car: Elon Musk, Tesla's eccentric billionaire CEO, is the company's most potent asset. Musk is a risk-taker, a visionary, a tech master, and a savvy businessman.
Many CEOs these days don't offer all of that. Tesla is deserving of all the praise it receives throughout the world because it is poised to transform the global automobile industry and the transportation sector as we know it.
Tesla intends to surprise its competitors by launching a new model that will be the company's cheapest vehicle. The Model 2 is the name of this new product. Join us today to learn about Tesla's newest product and how it will impact the worldwide EV market.
Tesla has done exceptionally well for itself. We've had two saloons, a seven-seater, and a tiny SUV since the original Tesla Roadster debuted in 2008. The out-of-this-world Cybertruck and the stunning all-new roadster are both on the way.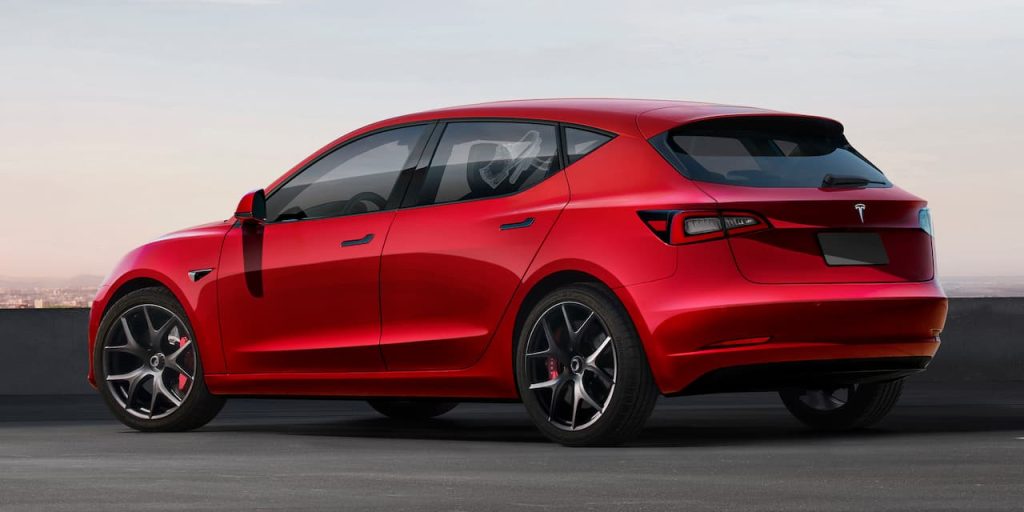 During Tesla's 2020 Tesla Battery Day conference, Elon Musk confirmed that the company will produce a hatchback, which will be the company's smallest and cheapest vehicle to date. This hatchback should be a great American equivalent to the Volkswagen ID3 from Germany.
Due to its cheap entry price, exciting contemporary features, and better performance, the Model 2 hatchback is expected to be the best-selling electric vehicle to date. Why are so many people anticipating the launch of Tesla's new model? Let's have a look.
The process of developing new technologies is costly. Consumers only see the finished product, not the enormous sums of money, talent, and time that went into its creation. Electric vehicles are still relatively new; the technology has been there for a long time, but it was only a few years ago that they became mainstream and conventional, thanks to Tesla.
It's difficult to persuade people that electric automobiles are a viable alternative to gasoline-powered vehicles. Tesla's first car, the Tesla Roadster, was released 14 years ago.
Electric cars were seen as small, horrible, and impractical due to their short range and long recharge times, therefore people were skeptical of their success. Tesla, on the other hand, stunned the world by releasing a car that can travel 200 to 250 miles on a single charge and takes 3 and a half hours to charge using a 240-volt hookup.
The first Tesla Roadster was incredible, but it was prohibitively expensive. It was sold for $100,000, which is around $125,000 today. Because electric car components were expensive at the time, Tesla had to sell its cars for a lot of money to avoid going bankrupt owing to the financial crisis.
Since then, electric car technology has been established, parts have become less expensive, and Tesla can begin selling its cars at a reduced price. With the debut of the Model 3 in 2019, Tesla made a significant shift. The cheapest Model 3 cost $35,400 at launch.
The Model 3's price has now climbed to $39,990 before any subsidies or possible savings are taken into account, due to events beyond Tesla's control including supply chain difficulties. It is currently the cheapest car in Tesla's lineup, at least until the Model 2 is released.
The Model 2's price reduction won't be the only thing new about it when it arrives. Thanks to its innovative tables design, which employs a new type of connector to bind the individual cells together, the new hatchback will feature a battery that is more powerful, safer, and cheaper.
This battery design is 35% smaller than traditional batteries, allowing it to store and discharge more electrical energy while reducing the risk of overheating and fire. The upgraded cells will provide the new hatchback a 16 percent increase in range per kilowatt-hour battery, according to Tesla.
This means that even if the new Model 2 battery pack is half the size of the Model 3 Standard Range Plus battery pack, it should still be able to travel 160 miles on a single charge. In comparison, the entry-level Fiat 500, which costs around $31,000, has a range of only 116 miles.
The new Tesla would cost $6000 less than the Fiat 500, but it would be more elegant and have a 30% longer range. Tesla also intends to employ the Model 2's battery as a structural component of the vehicle. Because the batteries are an intrinsic part of the car and do some work to support the car's underpinnings rather than just add weight, this would make the hatchback lighter and stronger.
In 2022, Tesla expects to produce new Model Ys that employ the same battery design as the Model 2. The Model 2 features a breakthrough design, with a 10% bulk reduction and 370 fewer parts for the battery.
The Model 2 will be simpler to manufacture and require fewer materials than Tesla's prior models. The car's range would be increased by another 14 percent as a result of the 10% mass decrease. As a result, the range could expand from 160 to 180 miles. What does this signify in terms of performance? Should we expect the Model 2 to be slower than the Model 3 because it is less expensive?
Tesla, on the other hand, does not do mediocre or unsatisfactory. To keep the Model 2's price low, Tesla is likely to use only one electric motor. Even so, the single motor isn't a slouch. Although the Model 3 Standard Range Plus has only one motor, it can accelerate from a standstill to 60 miles per hour in 5.3 seconds.
Because the Model 2 will be lighter than the Model 3, its engine will have less mass to move about, and it will be equipped with new high-tech batteries, it may be faster. It's possible that we're looking at a four-second event.
Musk has stated that the new hatchback will cost $25,000, which is less than half the price of the Model 3 Standard Range Plus. Other automakers have attempted to produce low-cost electric hatchbacks, but none have been able to match the Model 2.
If you don't qualify for federal tax credits, the Nissan Leaf hatchback costs $31,670. That price just covers the essentials. Before incentives, a model with all the bells and whistles, including Nissan's ProPilot driver assistance, costs around $44,920, which is nearly the same as a Tesla Model Y.
The Model 2 will be available in a variety of configurations, including a fully autonomous version, similar to the Model 3. Tesla is currently testing a beta version of their full self-driving technology, which costs around $10,000, although the price may drop after the Model 2 is released. We can't be certain just yet.
Tesla has always maintained the same level of consistency in all of its vehicles. Although the Model 3 and Model Y are less expensive than the Model S and Model X, they come with many of the same features.
The range may be less, and you may not have access to the insane mode, which provides mind-boggling performance, but every Tesla car has that Tesla vibe. Tesla automobiles are all designed to provide the same driving experience. Tesla attempts to ensure that no matter how much you pay for your car, you get the same experience in all of their cars, from the upholstery to the infotainment system.
Even complete self-driving capability is available on less expensive vehicles, and we expect it to be accessible on the Model 2 if you can afford it. The more expensive models may receive new updates first, or additional features such as AAA gaming or the yoke steering wheel, but they are all still Tesla vehicles.
While Tesla intends to lower its starting price to $25,000, analysts believe that the cost of electric vehicles will fall even more. The Model 2 is planned to be introduced in 2023, and it will be developed and designed at Tesla's new Shanghai R&D site.
Tesla's new Shanghai factory will be the company's first outside of the United States. According to Musk, the Model 2 will be made in the Chinese style. It has already begun collecting design submissions from eligible individuals for the Model 2, and it has been hiring for its manufacturing since last summer.
The Model 2 will be made and sold in other countries. Tom Zhu, Tesla's president in China, confirmed it. In an interview with China's official media. Tesla has announced that the Model 2 will be available in 2023, although many are doubtful due to Tesla's track record of missing deadlines.
Tesla still has plans to release the Cybertruck, Roadster, and Semi-Truck, among others. Musk indicated in a conference in August 2021 that production of the new 25,000 dollar Tesla will begin in 2023. The Model 2 prototype has been completed, according to Twitter sources, and a trial production date has been scheduled for 2022.
Musk also teased that the Model 2 would not have a steering wheel when he asked his employees if they wanted a steering wheel and pedals on the Tesla Model 2. In 2019, Tesla released a poster illustration of the Model 2 featuring steering wheels and pedals.
Unfortunately, it appears that the Model 2 is on hold as Tesla concentrates on developing hardware 4.0 for its complete self-driving technology. The Model 2 is unlikely to arrive in customers' garages until 2025.