I'm really excited, and I hope you are too, because Jamaican Ackee and Saltfish is one of my favorite recipes. Why, you might wonder?
That's because, yep, it's Jamaica's national food!!
This delectable, flavorful one-pan recipe has finally arrived. Once you get your hands on a can of ackee, it's quite easy to create. I assure you that you will enjoy this dish as much as I do!
WHAT IS JAMAICAN ACKEE?
The ackee is Jamaica's national fruit! This fruit was transported to the Caribbean from West Africa in the 18th century and is also known as achee, akee, ackee apple, or ayee. It, like lychee and longan, belongs to the sapindaece (soapberry) family.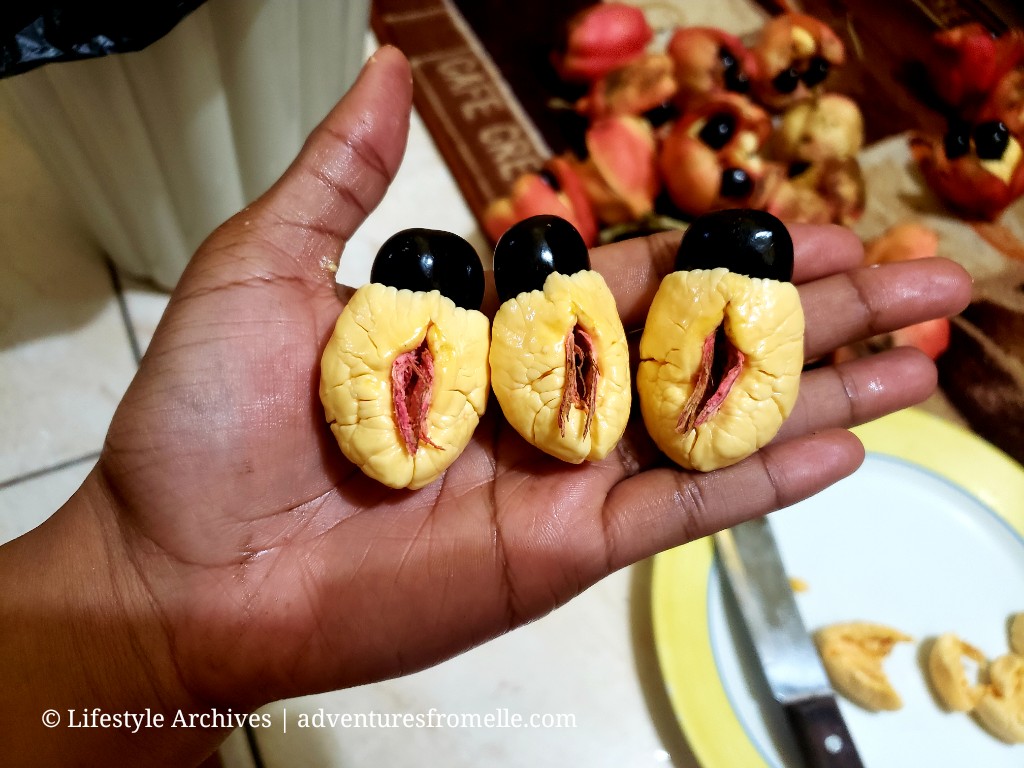 It takes on a pear form when fully mature, and the color changes from red to bright yellow/orange. The ackee fruit cracks apart to expose large, gleaming seeds.
Many people who have never had ackee say it tastes like scrambled eggs. I can see why people might believe that. It has that creamy, delicate texture, but the flavor is quite different from eggs.
This national cuisine is served with root vegetables, dumpling hard dough bread, or callaloo by Jamaicans for breakfast, lunch, or dinner.
In terms of what sides it is served with, it depends on the individual or whether it is eaten for breakfast or dinner.
You may read more about each island's infinite Caribbean National Dishes right here.
INGREDIENTS YOU WILL NEED
Saltfish: You can buy saltfish at the supermarket or prepare an unprocessed nutritious meal at home! If you're not using my homemade version, you'll need to soak and boil the fish to remove the salt and de-bone it (if necessary) before cooking.
Ackee: As previously said, I use one 19oz (the largest can) Because fresh ackee is nearly impossible to obtain via export, the canned version is frequently soaked in salt water. Apart from encouraging you to fully rinse and drain before cooking, there's not much I can do.
Bell peppers: I use a mixture of green/red but don't go overboard with the amount. Half of each pepper tends to be enough but use the whole pepper if you want more.
Tomato/Tomato paste: I used both fresh tomatoes with some paste to create some liquid in the pan as the ingredients cook
Onion: To form the base of the recipe
Thyme: You can use dried or fresh and de-stem the thyme so it's distributed evenly.
Seasoning: Scotch bonnet, black pepper, which I add towards the end to serve as a garnish, and Paprika for some enhanced flavor but this is NOT a traditional ingredient and is optional.
Oil: Any high smoke point oil i.e coconut or olive oil works well
HOW TO MAKE JAMAICAN ACKEE AND SALTFISH
In just a few easy steps, you can cook this one-pan dinner! Before cooking this dish on the stovetop, make sure the saltfish is prepared and the ackee is gently drained and rinsed. Simply follow the steps below once that's done!
In a skillet, heat the oil and cook the onion, bell peppers, and tomatoes.
Stir together the saltfish and tomato paste in the skillet.
Add the paprika, then fold in the ackee gently so it doesn't become mushy. Allow to heat through before serving, garnished with black pepper.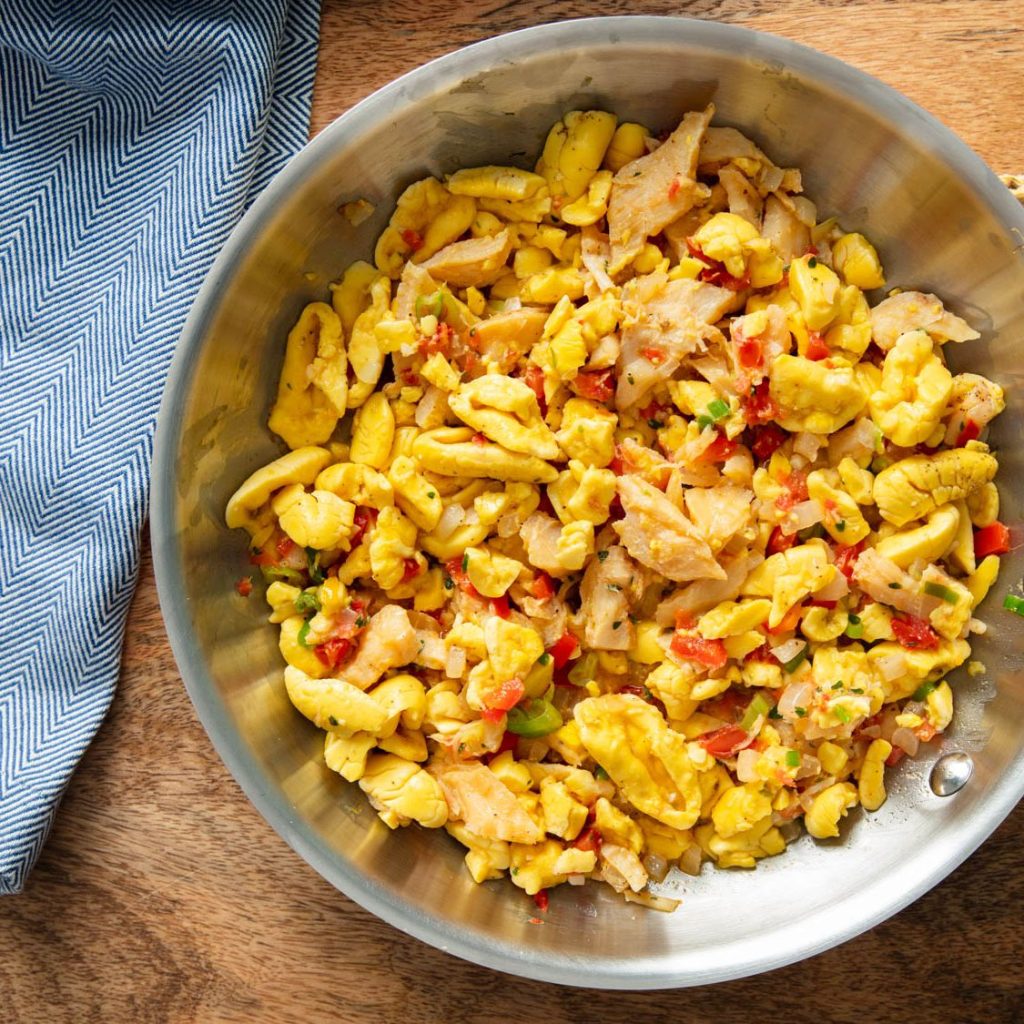 WHAT DOES ACKEE AND SALTFISH TASTE LIKE?
It's difficult to describe, but it's nothing like the scrambled egg version. I'd make ackee that was soft and buttery, with a creamy texture and a mildly salted fish flavor.
WHERE CAN YOU BUY ACKEE?
A can or tin of ackee can be found in most Caribbean supermarkets or online.
The canned version comes in two sizes; for this recipe, you'll need the larger can.
IS THE NATIONAL DISH FREEZER FRIENDLY?
Although handmade saltfish can be prepared and frozen, this meal is not suitable for freezing. Enjoy it in the morning, midday, or evening!
IS THERE A VEGAN ALTERNATIVE TO SALTFISH?
Yes, you can veganise the recipe by using jackfruit or heart of palm
NOTES AND TIPS:
Purchase store-bought salt fish or make your own using my unrefined version! 12 pound salt fish or cod is required for this dish.
Before eating ackee, it must be carefully plucked and boiled. Fresh ackee is difficult to come by outside of Jamaica because, yes, it is deadly if not properly washed and handled. But don't let it stop you from trying this delicious meal! It's all about the Grace brand!
Because ackee is a fragile ingredient, use caution while cooking with it. Because it melts easily, it's best not to overcook it. Make sure you're not stirring constantly.
Leave the scotch bonnet out. Scotch bonnets are a traditional Jamaican ingredient, but they're quite spicy, so leave them out if you want this recipe to be more mild.
SERVING SUGGESTIONS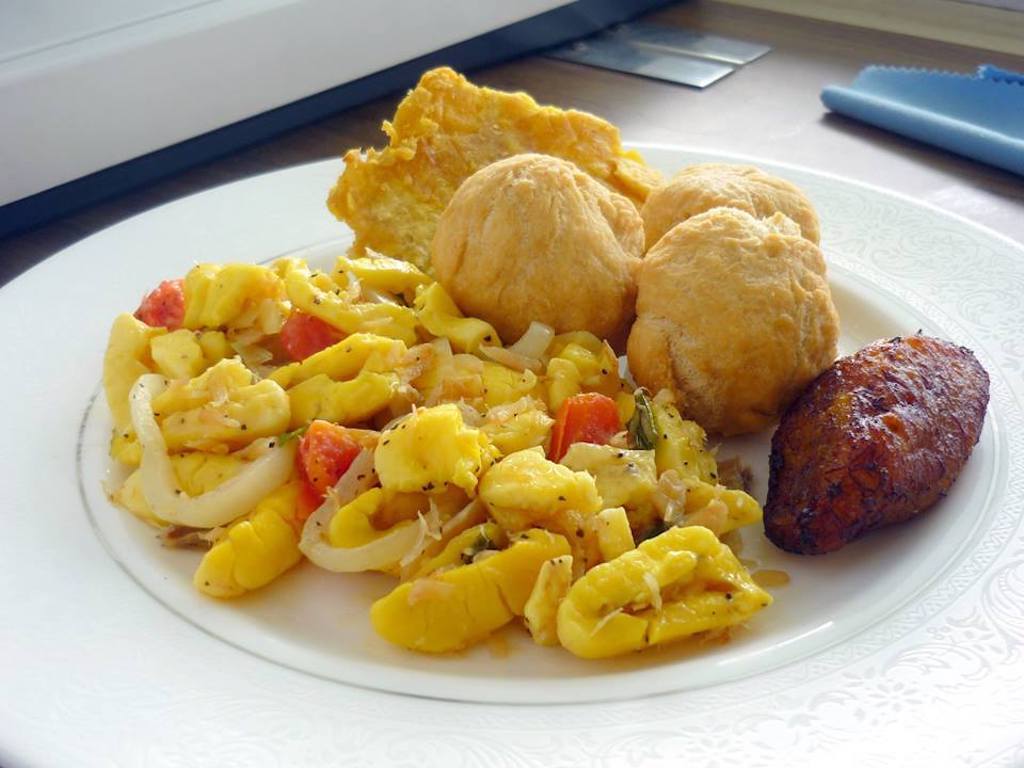 For a scrumptious Jamaican breakfast, pair it with any of the following:
Roasted Breadfruit
Jamaican Banana Fritters
Green Banana
Baked Plantain
Fried Dumpling or Jamaican Boiled Dumpling
Callaloo (Keto option)
Jamaican Hot Chocolate